Along the way, and afterwards I had many conversations about my walk from John o'Groats to Land's End, and many questions. Here are a few of the question that come up most often…
How many miles did you walk each day?
About 18 miles a day on average, but it varied a lot. Some days I'd walk 25, others 15. Occasionally even less or even more.
I had a total of 6 rest days, though I climbed the UK's highest mountain on one of those rest days so perhaps only five really!
Over the whole journey, I kept a fairly steady pace on average. I felt fitter towards the end, and it got easier, but I didn't walk any further – instead I relaxed a bit, and the walking felt more sustainable.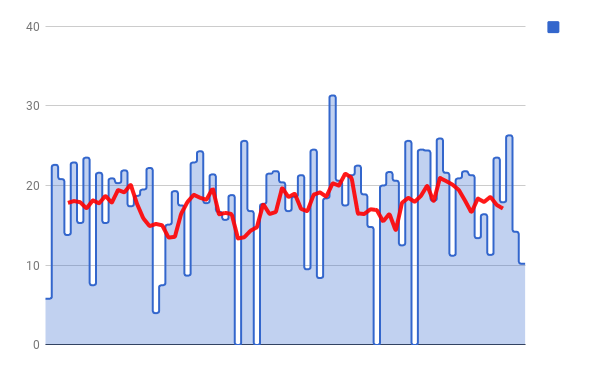 Which charity were you doing it for?
I don't see a connection between walking and a charity. I walk because I enjoy walking. I challenge myself because I enjoy challenging myself. Perhaps it's a selfish approach, I don't know. If you feel I should have done it in aid of a charity, well, I'd encourage you to use this as a trigger to make a donation to a deserving charity right now!
Did you feel lonely walking by yourself?
Not much. I found during the first three weeks when I was in the far north of Scotland, although I barely encountered anyone, I didn't get lonely. I was however very pleased on the rare occasions that I bumped into someone, so ended up chatting to people I'd never usually stop to chat to, like old anglers.
Hostels were a fantastic way to get some social contact. I met many interesting and friendly people in hostel kitchens, lounges, and dorm rooms. However, it did get slightly weird after a while, because all the friends I made for an evening, I'd leave behind the next day. This is fine for a weekend away, but over a period of 10 weeks it is a bit strange and I found I started to tire of having the same conversations with different people every day.
I did sometimes feel lonely when I arrived in towns, when there were people all around, but I didn't know anyone and wasn't talking to anyone. I guess that was me being a social animal, feeling I should be talking to people because others were. But I was content being alone out in nature.
So it must have been a wonderful, blissful, meditative experience?
I think I went into it expecting this, but usually this was not the case! When a city-dweller such as myself goes on a day walk, it often is a blissful experience, because the walking is fairly easy and survival is not difficult – just walk for a few hours in nature and then go back to home comforts. But on a multi-day walk, with an ambitious schedule, it was often too tough to be meditative.
There were a lot of practical things to focus on – navigating, setting up camp or packing up, managing my food, booking accommodation, etc. Then there was pain to put up with. Early on I had a few blisters, my legs ached, and my back too. The pain lessened over time as I switched to walking sandals, made my pack lighter, my legs adapted, and I got away from the Scottish midges. But it was physically challenging all the way through, so it usually wasn't the blissful experience that easier day walks can be. There were moments though!
Did you ever want to give up?
Yes, certainly! I wanted a few days in after wading through the Moss of Killimster. But I would have been too ashamed!
One month in, as I came towards the English border, I felt I had already achieved a lot, having walked the length of Scotland, but I was physically exhausted and mentally bored. I had the idea of going back home to rest, and give my brain something to do (a nice computer programming project perhaps), then continuing the walk another time. Perhaps completing it in three sections. But with the encouragement of friends and family I persevered to complete it all in once go.
Any more questions?
Ask me in the comments below!